Teacher wears profane anti-Trump jacket --- in classroom!

Cheryl Judy is the art teacher at Sherman Junior & Senior high School in Boone County, West Virginia. She is also a self-described liberal.

The other day she committed an anti-Trump fashion faux pas in the classroom – surrounded by several students.

Ms. Judy was photographed wearing a jacket with the words "Tuck Frump" pinned on the back — the letters comprising the f-word highlighted in white. 

One of the kids in the classroom posted the photo online --and it went viral faster than an Angry Cat meme. 

"Without me thinking I said, 'Sure,' and she didn't post it to be mean or anything," Ms. Judy told the Gazette Mail.

"She has apologized for it and she didn't know that this is what would happen and she put it on Snapchat and then it just went everywhere. It exploded. It was unintentional on my part and her part."

She told the newspaper she had modeled the jacket for several students who shared her liberal ideology.
I am speechless.  The schools are so far gone in this country it will take 50 years to get back some semblance of normalcy...if we start that like yesterday!
This "chick" thinks she's cool and wants to be pals with her students.  Unbelievable.
Another article with the photo (if it comes through):
Teacher's Anti-Trump Jacket Sparks Outrage (Photo)
April 18, 2017
A Seth, West Virginia, teacher sparked outrage among parents for an anti-Trump jacket she wore to school with a strong message include.
A photo surfaced online, taken by a student, of Sherman Junior High teacher wearing a denim jacket with the phrase, "Tuck Frump" written on it as a play on words.  The jacket quickly sparked controversy among parents.
"Very inappropriate for a teacher to wear that to school or anywhere else for that matter," parent Howard Kirk told Tristate Update after seeing the jacket for the first time. "She's a public employee so her opinion of Trump, while she's at work or at a public function, she's speaking for Boone county Schools."
Students agreed that the jacket crossed the line, saying that they weren't as bothered by the political message as they were by the language. 
Popular Video
When Miranda Lambert saw the sign a veteran was holding up at her concert, she immediately broke down in tears:
"I just know if I wore something like that I would get suspended pretty bad," student Braxton Harless said. Harless added that Judy has engaged in political discussions in class often, and her feelings on the President were well known.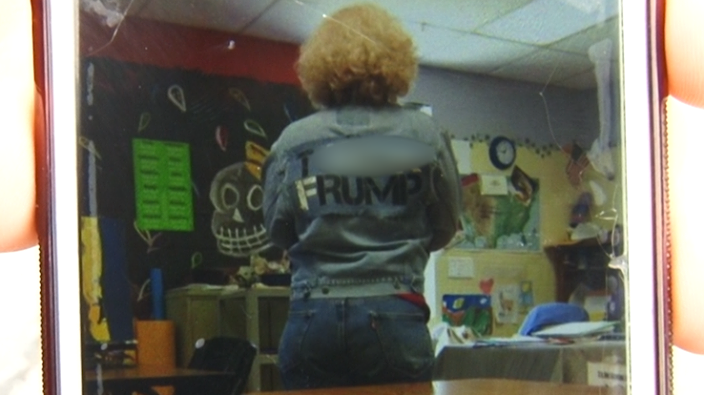 "First, yes, I did wear that jacket to school, sans the patch on the back. I took the patch with me so that I could pin it onto the jacket before I left school. This was on Thursday. Since I had a little time before school was out to pin the patch on the jacket, so I did. I tried it on to make sure that the patch was straight," Judy said in a statement on the controversy. 
"I only had it on for less than two minutes. A like minded student snapped a photo and shared it on social media without my permission. This has gotten so blown out of proportion that it is unreal. I never intended for this to happen. I did not put the jacket back on and made sure that the patch was not exposed until I was well away from the school. People think that I flaunted the jacket at school. I did not. I am a very liberal person but I never force my liberalism on others and never would."
Many readers agreed that the teacher went too far with her statement and the way she expressed her views.
"She can make all the excuses she wants, it was inappropriate attire for the school grounds period. Teachers in all levels of education need to leave their politics at home," one Mad World News reader commented on the site's Facebook page.
"She should be fired! Teachers should not be teaching disrespect & politics! She is not fit to teach anything to anyone, look at this so called teacher she REEKS DISRESPECT!" another added.